Dreambuilders' Ball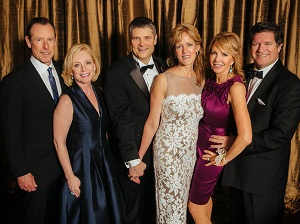 Virginia Mason Dreambuilders' Ball 2014 co-chairs
from left to right: Peter and Kelly McLoughlin,
Dr. Steven and Cynthia Kirtland, Stacy and Greg Lill.
Save the Date for the 2015 Dreambuilders' Ball on Saturday, May 16!
Dreambuilders' Ball Photos: enjoyphotos.com (username: Dreambuilders Ball 2014, password: 31186).
The 2014 Virginia Mason Dreambuilder's Ball raised a record $1.5 million to benefit Transforming Health Care: The Surgical Suites on Level 3 of the Floyd & Delores Jones Pavilion on Saturday, May 10, 2014. Now in it's 23rd year, this annual event supports various programs at Virginia Mason Medical Center and further enables Virginia Mason to realize our vision to become the Quality Leader and transform health care.
Event co-chairs Cynthia & Steven Kirtland, MD, Virginia Mason, Stacy & Greg Lill, DeLille Cellars, and Kelly & Peter McLoughlin, Seattle Seahawks, Vulcan Sports and Entertainment were joined by 800 philanthropic and corporate community leaders. Gala guests enjoyed a gourmet multi-course dinner, signature cocktails, live entertainment by Motown Revival, and the exclusive After Party sponsored by Nordstrom.
A generous group of philanthropic supporters came forward with leading gifts to match every "Spotlight on Giving" gift three to one! This event would not have been possible without the generosity of these donors, our Dreambuilders' Ball co-chairs, event sponsors, Virginia Mason corporate partners, and numerous donors and volunteers. From everyone at Virginia Mason, thank you for your support.
In an effort to improve our work and your experience at Dreambuilders' Ball next year, you are invited to complete our online event survey. Photos from the event are available at enjoyphotos.com (username: Dreambuilders Ball 2014, password: 31186). Finally, if you need to make a payment on a pledge made at the event or would like to make a gift to Virginia Mason, please click here.
--
Photos: enjoyphotos.com (username: Dreambuilders Ball 2014, password: 31186)
Payments: https://www.virginiamasonfoundation.org/donate
Online survey: https://www.surveymonkey.com/s/JF6SMGD