Grapes on the Green
SAVE THE DATE for Grapes on the Green
Friday, August 21, 2015
at the Golf Club at Newcastle
Thank you for supporting Grapes on the Green 2014!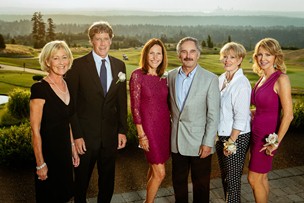 Grapes on the Green 2014 participants: Mary and
Chuck Kastner, patient speakers; Trish Markey,
Grapes on the Green committee; Dr. Jerry Nepom,
BRI Director; Kristi Pangrazio, BRI Board Chair;
Stacy Lill, Grapes on the Green committee.
This year's Grapes on the Green wine tasting event raised a record-breaking $555,000 to benefit the Benaroya Research Institute at Virginia Mason (BRI) on Friday, August 22, 2014.
"It was a very exciting event," says organizing committee member Stacy Lill. "Passing the half million dollar mark was a key milestone for this world class organization that does so much locally and globally to save people's lives and wipe out disease."
Honorary co-chairs Leonard and Norma Klorfine were joined by patient speakers Mary and Chuck Kastner and 300 philanthropic leaders. Guests tasted an elite collection of wines from local wineries: Barrage Cellars, Beringer, Col Solare, DeLille Cellars, Ghost Block, Lachini Vineyards, O Wines, Paradigm Winery, and Sparkman Cellars.
In an effort to improve our work and your experience at Grapes on the Green next year, you are invited to complete our online event survey. Photos from the event can be viewed and purchased here (log in: Grapes On The Green 2014, password: 31186). Finally, if you need to make a payment on a pledge made at the event or would like to make a gift to Virginia Mason, please click here.
Grapes on the Green is proud to support the research efforts of the Benaroya Research Institute at Virginia Mason. Every day, the world-renowned researchers at BRI work to find the causes of autoimmune diseases - such as type 1 diabetes, multiple sclerosis, rheumatoid arthritis, Crohn's disease and many others - and apply these findings to prevent, treat and ultimately eliminate these diseases. BRING IT ONTM