Grapes on the Green
SAVE THE DATE for Grapes on the Green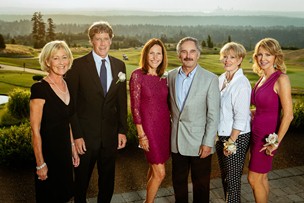 Grapes on the Green 2014 participants: Mary and
Chuck Kastner, patient speakers; Trish Markey,
Grapes on the Green committee; Dr. Jerry Nepom,
BRI Director; Kristi Pangrazio, BRI Board Chair;
Stacy Lill, Grapes on the Green committee.
Friday, August 21, 2015
at the Golf Club at Newcastle
Please join us for a wine tasting from some of the region's premier wineries, a multi-course dinner and an elite live auction featuring exclusive travel opportunities and rare wine lots to benefit the Benaroya Research Institute at Virginia Mason.
Tickets go on sale June 3.
The Grapes on the Green Committee is fortunate to be comprised of these distinguished community leaders: Rebecca Campbell, Geda & Phil Condit, Carolyn Corvi, Larry Dickenson, Dana Dickenson, Gracie Hunt, Kathy Johanson, Stacy Lill, Trish Markey, Scott Oki, Sarah Ruttkay and Julie Turnell.
Contact us: For more information, call us at 206-223-7521 or email Events@VirginiaMason.org.